Users' Q&A Webinar Slideshow Now Available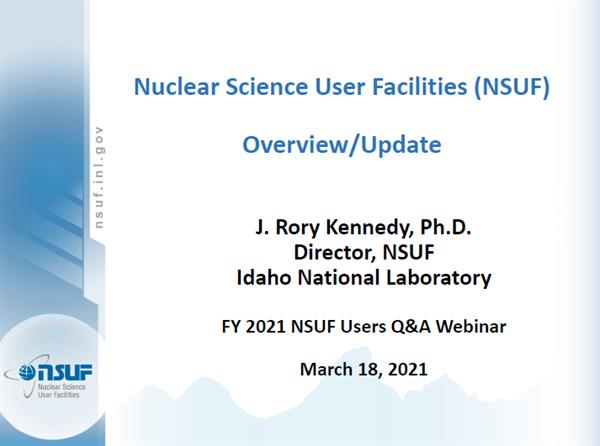 In place of the annual Users Organization Meeting, NSUF Director, Dr. Rory Kennedy, held a Q&A Webinar on March 18, 2021. This presentation provided an overview of the Nuclear Science User Facilities and useful contacts. It highlighted Action Areas such as executing awarded projects and expanding high performance computing via Falcon and Sawtooth. NSUF is continuing to track citations, publications, and facility utilization.
Some of the questions included:
Q: How can we reinforce student led RTE projects? Could we have a separate call just for students?
A: Although we do not currently have the resources to support a student specific RTE call, with more funding this may be possible. However, we don't have the time or resources to conduct an entirely separate call, so a student specific call would have to replace one of our regular calls. A users' vote on the suggestion would be the best approach to uncovering the community interest.
Q: Could we highlight the best student research papers or presentation?
A: Yes. DOE and NE already do this, and it is definitely an option for NSUF. We would need nominations from the community and Users Organization.
Q: Due to COVID-19, is there an extension to the 9-month RTE deadline?
A: Yes. We have experienced some delays in many facilities. The length of an extension will be dependent on the facility where the work will be performed. Users should contact Collin Knight (Collin.Knight@inl.gov) with information on any delays to their project at the earliest possible time.
Q: The CINR process can be cumbersome. Are there any comments on improving this process?
A: We are always looking for improvement. It has been suggested that a statement of work would be submitted only for proposals that have been invited, however, the current schedule we adhere to does not allow for this. We welcome any further suggestions that can improve the users' experience.
View the full presentation here: Nuclear Science User Facilities (NSUF) Overview/Update
If you have any questions about this presentation, please contact Rory Kennedy (Rory.Kennedy@inl.gov).

Articles