Department of Energy Nuclear Science User Facilities Awards 29 Rapid Turnaround Experiment Proposals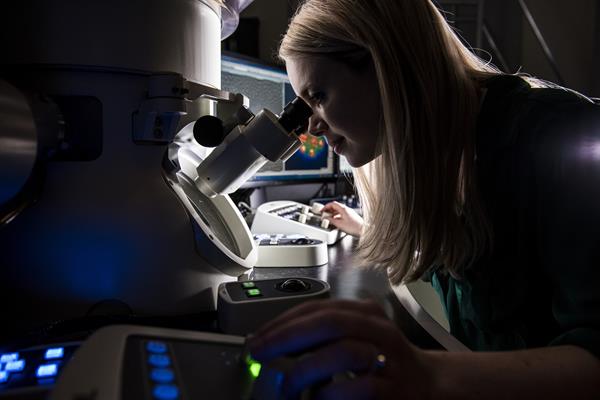 IDAHO FALLS -- The U.S. Department of Energy - Office of Nuclear Energy (DOE-NE) Nuclear Science User Facilities (NSUF) has selected 29 new Rapid Turnaround Experiment (RTE) projects, totaling approximately $1.14M. These project awards went to 13 principal investigators from universities, nine from national laboratories, four from industry, and three foreign universities.
The NSUF competitively selected these projects from a pool of high-quality RTE proposals submitted during the solicitation period. Each proposal was evaluated based on a variety of factors including technical approach, mission relevance, and scientific-technical merit.
The NSUF, managed by Idaho National Laboratory (INL), provides unparalleled opportunities for nuclear energy researchers. Through the RTE solicitation, a researcher can apply for no-cost access to NSUF's capabilities located across the United States. These capabilities encompass irradiation, post-irradiation examination, beamline, and high-performance computing equipment and expertise necessary to advance the understanding of irradiation effects in nuclear fuels and materials in support of DOE-NE's mission.
The NSUF is currently planning on opening another RTE call this fiscal year. Please stay tuned for more details.
| | | | |
| --- | --- | --- | --- |
| Proposer Name | Institution | Proposal Title | NSUF Facilities |
| Aaron Craft | Idaho National Laboratory | Understanding Metallic Fuel Relocation Using Neutron Computed Tomography | Idaho National Laboratory - Materials and Fuels Complex (MFC) |
| Benjamin Dacus | Massachusetts Institute of Technology | Microstructural Evolution in Model & Real RPV steel due to Thermal Aging and Low-Dose Irradiation using Atom Probe Tomography | Center for Advanced Energy Studies - Microscopy and Characterization Suite (MaCS) |
| Burkan Isgor | Oregon State University | Irradiation of stainless steel claddings produced by additive manufacturing for in-core applications | University of Wisconsin - Ion Beam Laboratory |
| Calvin Parkin | University of Wisconsin | IVEM Investigation of Defect Evolution in FCC Compositionally Complex Alloys under Dual-beam Heavy-ion Irradiation | Argonne National Laboratory – Intermediate Voltage Electron Microscope Tandem Facility (IVEM) |
| Casey McKinney | University of Florida | Assessing the Radial Thermal Conductivity Change in FBR MOX Fuel | Idaho National Laboratory - Materials and Fuels Complex (MFC) |
| Charles Hirst | Massachusetts Institute of Technology | Verifying Wigner energy measurements by in-situ TEM annealing of neutron-irradiated Ti | Idaho National Laboratory - Materials and Fuels Complex (MFC) |
| Cody Dennett | Idaho National Laboratory | Defect generation and phase stability in single crystal mixed uranium-thorium actinide oxides | Center for Advanced Energy Studies - Microscopy and Characterization Suite (MaCS) and University of Michigan - Michigan Ion Beam Laboratory (MIBL) |
| Donna Guillen | Idaho National Laboratory | Microstructural Examination of Irradiation Effects on Metal Matrix Composite Neutron Absorber | Center for Advanced Energy Studies - Microscopy and Characterization Suite (MaCS) |
| Fabio Di Fonzo | Istituto Italiano di Tecnologia | Radiation-induced Crystallization in Alumina Coatings: Temperature and Yttria Doping Effect. A Completion Kinetic Study to Model Radiation Resistant Coatings for the Future Nuclear System. | Argonne National Laboratory – Intermediate Voltage Electron Microscope Tandem Facility (IVEM) |
| Fabiola Cappia | Idaho National Laboratory | Study of minor actinides redistribution and fission products in high burnup MOX using Electron Probe Micro Analysis (EPMA) | Idaho National Laboratory - Materials and Fuels Complex (MFC) |
| Francis Garner | Texas A&M University | The effects of stress on void superlattice formation during Cr+ self-ion-irradiation of chromium | Center for Advanced Energy Studies - Microscopy and Characterization Suite (MaCS) and Texas A&M University - Accelerator Laboratory |
| Ippei Maruyama | Nagoya University | Effect of neutron radiation on density and mechanical properties of concrete aggregates | Oak Ridge National Laboratory - Low Activation Materials Development and Analysis (LAMDA) |
| Jean Smith | Electric Power Research Institute | Mechanistic Insight Through TEM Characterization of Intergranular Irradiation-Assisted Stress Corrosion Crack Tips in As-Irradiated vs. Post-Irradiation Annealed Specimens | Idaho National Laboratory - Materials and Fuels Complex (MFC) |
| Kathleen Goetz | University of Tennessee-Knoxville | Imaging of Irradiation Effects in Tantalum Alloys for Fast-Spectrum Self-Powered Neutron Detectors | Oak Ridge National Laboratory - Low Activation Materials Development and Analysis (LAMDA) |
| Michael Miller | Southwest Research Institute | Computational Thermochemistry of Pathways Toward Synthesis of Uranium Nitride | Idaho National Laboratory - Materials and Fuels Complex (MFC) |
| Michael Moorehead | University of Wisconsin | Heavy Ion Irradiation and Characterization of Light-Refractory, BCC High-Entropy Alloys | University of Wisconsin - Ion Beam Laboratory |
| Mike Burke | Electric Power Research Institute | In-situ mechanical testing of neutron-irradiated 304SS exhibiting unusual deformation and fracture behavior with respect to temperature | University of California-Berkeley - Nuclear Materials Laboratory and Westinghouse Churchill Laboratory Services |
| Mukesh Bachhav | Idaho National Laboratory | Correlative TEM and APT approach to elucidate hydride morphology and behavior in ex-service pressure tube material | Idaho National Laboratory - Materials and Fuels Complex (MFC) |
| Nishant Garg | University of Illinois at Urbana-Champaign | Changes in mechanical and chemical-structural properties of gamma irradiated calcium silicate hydrates to an absorbed dose of 189 MGy with respect to pristine samples subjected to the same temperature history | Oak Ridge National Laboratory - Low Activation Materials Development and Analysis (LAMDA) |
| Pengyuan Xiu | University of Michigan | The sink strength and radiation parameter effects on microchemical evolution in dual-ion irradiated additively manufactured and wrought HT9 | Center for Advanced Energy Studies - Microscopy and Characterization Suite (MaCS) |
| Przemyslaw Klups | University of Oxford | Comparison of Solute Cluster Formation and Evolution in Neutron-Irradiated ATR-2 to Thermally-Aged Low-Alloy Steels | Center for Advanced Energy Studies - Microscopy and Characterization Suite (MaCS) |
| Rajiv Mishra | University of North Texas | Ion Irradiation and Examination of Additive Friction Stir Manufactured 316 Stainless Steel Component | Center for Advanced Energy Studies - Microscopy and Characterization Suite (MaCS) and Texas A&M University - Accelerator Laboratory |
| Ramprashad Prabhakaran | Pacific Northwest National Laboratory | Microstructural characterization of neutron irradiated NF616 (Grade 92) as a function of doses and temperatures | Pacific Northwest National Laboratory - Materials Science and Technology Laboratory |
| Somayeh Pasebani | Oregon State University | Ion Irradiation and examination of 304 Stainless Steel and 304 ODS Steel Additively Manufactured via Selective Laser Melting | Center for Advanced Energy Studies - Microscopy and Characterization Suite (MaCS) and Texas A&M University - Accelerator Laboratory |
| Stephen Taller | Oak Ridge National Laboratory | The Role of Precipitate Coherency on Helium Trapping in Additively Manufactured Alloy 718 | Oak Ridge National Laboratory - Low Activation Materials Development and Analysis (LAMDA) and University of Michigan - Michigan Ion Beam Laboratory (MIBL) |
| Troy Munro | Brigham Young University | Local thermal properties of fast reactor MOX fuels | Idaho National Laboratory - Materials and Fuels Complex (MFC) |
| Vipul Gupta | General Electric Global Research | Pre-oxidation effect on ATF cladding performance by characterization of irradiated FeCrAl-UO2 capsules | Oak Ridge National Laboratory - Low Activation Materials Development and Analysis (LAMDA) |
| Yachun Wang | Idaho National Laboratory | A first Investigation in Lanthanide-induced Grain Boundary Embrittlement in HT9 Cladding via In-situ Micro-tensile Testing | Idaho National Laboratory - Materials and Fuels Complex (MFC) |
| Zachary Mills | Oak Ridge National Laboratory | Coupling CFD and ML to transform the coated nuclear fuels fabrication process | Idaho National Laboratory - Materials and Fuels Complex (MFC) |
Articles